No matter how good your business model, it is imperative in this digital age to connect your business offering to online audiences. More and more customers are looking online to be inspired and to make purchasing decisions.
This is how I can help, particularly if you don't have the time, expertise or confidence to grow your business online.

My role as a freelance communications consultant is to take a fresh and objective look at how your business comes across; on your website, across social media platforms and in direct marketing campaigns. If you are not yet employing all (or any) of these marketing strategies, I can advise you and get you up and running.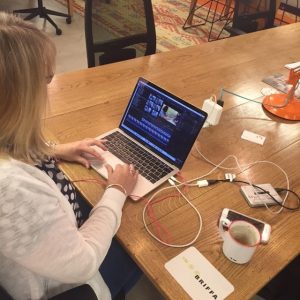 With my proven track record of establishing or enhancing business profiles online, I can provide different levels of training and support, depending on your budget and your specific needs.
Do you have a strong brand image? Is it consistent and recognisable across all your customer touchpoints and marketing output? Are you getting your key messages across effectively and growing your audiences year on year? I have practical experience of all these things. My input has tangible and measurable results.
Having set up and managed the Visit Chislehurst website (which now has 5K unique users), I am well known in the local community and have all the right contacts to help you grow your audiences and maximise profit.
I am best known for my short, promotional films, now considered THE most effective online marketing tool in terms of audience reach.  Would be customers are more and more consuming bite size engaging content through the medium of videos/memes and so on.
I have a strategic approach and a can-do attitude. I am highly creative and resourceful, personable to work with and completely transparent about my fees and terms of engagement.
I see it as a personal challenge to drive up audience figures on behalf of my clients. Many businesses want to have a consultant's input initially and then to have regular check-ins and updates.
My approach is to get you set up and confident at managing your own online marketing and content going forward, and then offer a bespoke service dependent on your needs and your growth aspirations.
I have a range of clients happy to give testimonials and have worked with businesses ranging from legal practices, bagel producers, to charities.
Let's talk!
Clare Herriot