Mention politics and my mind goes to mush. Mention community and collaboration, and it's like lighting the touch paper; I become animated and chatty.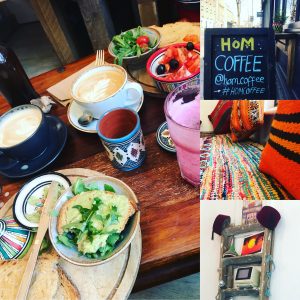 So when I arranged to meet Sara Hyde for lunch, in the back streets of Kings Cross, I was a little nervous as to what we would talk about. I rehearsed a few possible shared interests but was puzzled as to the reason for our meet up having only met Sara once at a recent conference.
But, women being women, finding things to talk about is rarely an issue. It was a doddle.
Our lunch was on Caledonian Road, Sara's patch; a Moroccan themed café, House of Morocco, with a mix of healthy bread, dips and cake options. (Note, no cake for me 😀)
Sara has a few hats, she is a candidate for the labour party, Cally Road, Islington, as well as working in criminal justice.
We talked hubbies, what makes us tick and our aspirations, with no mention of football, phew. (another no-no for me)
What followed was a walk the length of Caledonian Road (The Cally to locals). It's a long road that's for sure, but I loved it.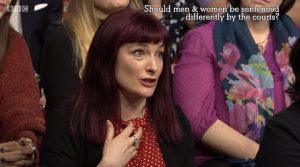 With all my interest ignited, Sara enthused about the area, the good points and bad. The mixture of old and new, empty shops, petrol station, a Co-Op and small independents.  Personally, nothing particularly flashy, but as we both concurred, a line of retails outlets was a centre point for the locals – and they love their area.
As with many other London spots, Cally is having a makeover and it's all-embracing as there's both new builds and social housing.
You would think that there'd be a great divide, and you might be right to some extent, but that doesn't mean this east meets west cannot work.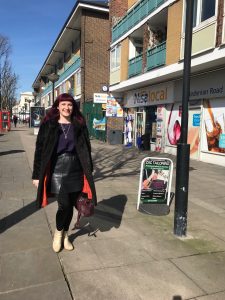 I was warmed to see numerous flowers and tributes to a well-known chemist who has recently passed away and how a small independent quirky coffee shop somehow managed to offer something for everyone.
Sara has lived literally a stone's throw from Cally Road for 15 years. She knows the area well and in the short time we walked, she met a few familiar faces along the way.
In just over a week, we are gearing up to vote for our local councillors. It's fair to say, that much of our decision will be based on the main party we support, but for me, especially for local issues, it is all about the person. Are they passionate about the area? Do they know the issues? Better still, have they become involved in community life already – groups, businesses, residents' groups…and what difference will they make? Will they speak for us and work on our behalf? Will they collaborate when needed?
I am excited for The Cally; with potential candidates such as Sara hoping to take up the post, it might find a way through the rapidly changing landscape and the issues facing everyone who lives there.
Who gets your vote?
Clare Herriot
Centre photo: Sara speaking on BB1 The Big Questions recently
In case you missed it, here is my article about Chris Orange, an inspiring photographer pushing all the boundaries to produce exceptional photos.