Something about Brixton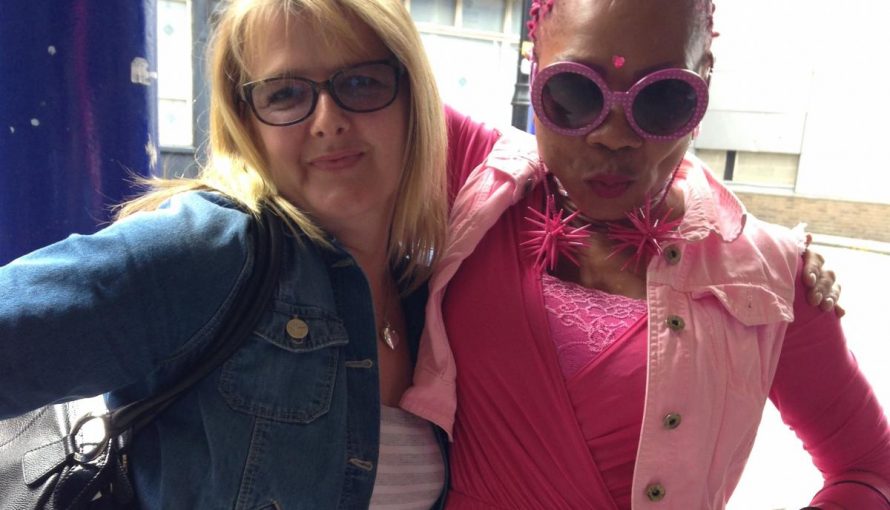 It's so easy to become settled in our suburban lifestyle; secure in familiar surroundings and daily routines. We often forget how rewarding it can be to venture out of our comfort zone and visit somewhere new. So on this day I decided to take a train to Brixton.

In July 2010 Prince Charles and the Dutchess of Cornwall visited Brixton and loved the colour and vibrancy.
Ten years ago, Brixton was not a place I would have chosen to visit, yet a decade later, this area has transformed into a thriving, culturally diverse inner city town; celebrated for its exciting, creative atmosphere. Most certainly worth a visit.

As soon as you step off the train every sense is heightened. There's a – can't quite put your finger on it – vibrancy in the air. Immediately you're greeted by a barrage of aromas: fruits, vegetables, pressed juices, breads, meat, coffee. Music blares from a corner shop, lifting the whole of Atlantic Road, acting as a back drop to the hubbub of people chatting, dashing here and there, busy in their daily lives. It's also visually stimulating. Shops and stalls seem to tumble out onto the street, draped in colourful wares that woo you in to look, to touch, to buy.


Vibrant fruits, vegatables and delicacies such as catfish.
In fact this is what struck me most. It was not so long ago that my local high street in Chislehurst would have had shops with eye-catching window displays that overflowed onto the pavement. Sadly, these days, with high prices to be paid to put anything on our pavements and the changing use of the shops, this is not a common sight anymore.

I wouldn't say what I saw in Brixton was pretty or uniform, but there was an edginess that enticed you in and shouted 'life'.

Being a newcomer I wandered the wrong way and ended up on Brixton Road. Disappointingly it looks like any other high street, with chain brands and (thankfully) some small, quirky independents dotted in between (I later found out that this part is owned by Network Rail. Interesting).
I was on a mission to meet local artist, sculptor, and gallery owner, Rufus Knight Webb. Wow, what a guy! Rufus is full of knowledge and bags of wisdom, but above all else he was a really interesting man who I'll never forget. He knows Brixton, he loves Brixton. His passion for the area was infectious!

Rufus Knight Webb is an artist, sculptor and has his own gallery in the centre of Brixton.

The crux of my conversation with Rufus was 'what makes Brixton so special'? He put the change in the last decade down to a unique mix of contrasting cultures, attracting young people to the area and a culture shift towards celebration of the large black population.
Unlike the high street chains on Brixton Road, Rufus pointed out that the privately owned Brixton Village has changed quite dramatically and is thriving due to the way it has adapted to the shifting demographic in the area. Caribbean women used to come daily to buy fresh produce there, but as their families grew up and all of our eating habits changed, the village has changed too.
At one time this undercover alley, that spills out into its surrounding streets, used to mainly host food businesses; fruit, veg and meat in abundance. But now, although there's still plenty of foody places, there is an array of cottage-industry restaurants and fabulous federation coffee spots. They take up less than 25 Square feet yet are extremely popular.

Kirsty and Jonny serve with a smile at popular French & Grace

Rufus says it's the small independents that have passion and something unique to bring (sharing something that's part of them, something they love) that are the most successful. The food is reasonably priced so the community splashes out. Rates here are either exempt or low, plus with homes being smaller, people want to be out, they want to enjoy the street life.
Brixton isn't perfect. It can be noisy, smelly and litter clutters the streets, but its magic comes from the people. You feel here that you're very much part of vibrant, eccentric, culturally diverse London. And you certainly don't have to be rich to enjoy what Brixton has to offer.

As far as I could see, what sets Brixton apart is the street life, the flexibility to move with the changing cultures and the small quirky eateries.
I have a feeling this is the start of a new adventure; a kind of a Clare Review 🙂
Next stop: Bermondsey Street.
Please follow and like us: