Something about Hastings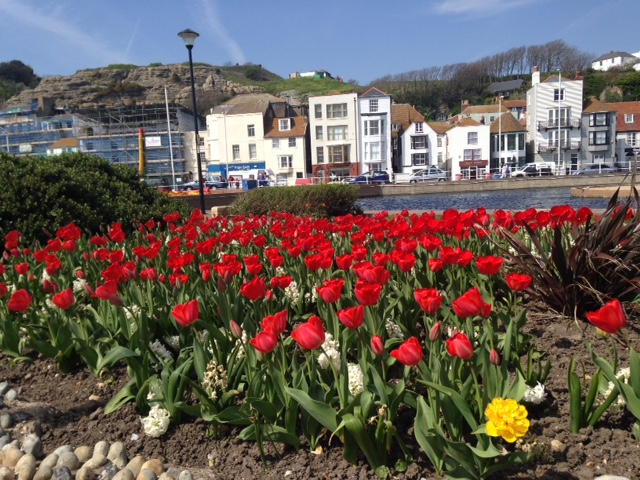 It's Monday. The sun is out and I am faced with two choices: either I stay at home, sweep the garden and then catch up on chores or take a train to somewhere new. The forecast for later in the week is cloudy so I have no choice but to hop on the train to St Leonards, then change my mind at the last minute and get off at Hastings instead.
Why Hastings? As a child I remember coming for a day trip with my mum and 3 siblings. We had such a fab day, we persuaded mum to let us sleep in the car overnight so we could have another day at the seaside. My spot was curled up on the back ledge by the rear view window! (I was small)
However, the reasons I chose to come here today were twofold. Firstly a friend had discovered a great coffee shop and recently I have seen a few posts on social media about Hastings Old Town that intrigued me – what is going on? Once again, as I will be in Hastings for only a few hours, it is just enough time to get a taste but still worth the effort; it is so much fun taking in new surroundings and getting a feel for an area.
At this point I must say that all my little jaunts to new places have been alone. Yes I do have a family but I must encourage you to occasionally go somewhere by yourself, where you are not someone's mother or wife, you are just you and no one knows you so you can explore at leisure. Very liberating.
Unlike any of my other trips, today I found myself contemplating the value of social media to promote towns. Investing time in posting news, interest stories and photos about a town can have many benefits. For the locals, it's a hub about what's happening in your neighbourhood – building a sense of community. For visitors it gives you a flavour of an area, up to date news and events and a contact point for questions. Finally, for other towns, a way to compare notes, glean ideas and share in their success.
My home patch, Chislehurst, will never be Hastings and vice versa but how encouraging to see another town being regenerated, improved and beginning to flourish. From experience it takes a lot of hard work and persistence. Hastings has somehow managed to bring in the new by celebrating and renovating the old. Yes I loved the new town, it was clean, aesthetically pleasing with communal central areas, but the old town, in particular Butlers Gap, was an experience worth trying.
Walking down Butlers Gap all the shops had their original shape and design. At one time these style of shop front would have been the norm but these days, frontages like these are unusual and now look so interesting. Certainly in Chislehurst the Town Team have developed a design guide for the shop fronts that the borough has now rolled out, which means where possible we can keep our buildings original features and designs.
I was on a mission to search out the coffee shop. All I knew was that it had lots of bookcases and red sofas and I found it! Hanushka Coffee House was a delight. I felt completely chilled sipping my latte and fruit. (Oh OK a danish pastry!) And a trip to somewhere new would not be complete without meeting an interesting person – this time was no different as I met extremely talented artist Luke Garvey @LJWGARVEY.
I then wandered to the beach and lay on the stones like a star for about half hour, listening to the seagulls and basking in the sun. Lovely. The only thing with being alone, you have to put up with a selfie of my feet!
 I am so glad we are beginning to see towns around the country start to regenerate, (not in the Doctor Who sense) each becoming unique in their own right – with individuality – so Hastings I applaud you – I loved my visit.
In Chislehurst, we continue to push to see our environment improve by producing the design guide, working with the council regarding parking, signage, and enticing new businesses to the area. Wouldn't it be great if visitors came from miles to see OUR town and what it has to offer? #WeLoveChislehurst We certainly do!
Clare Herriot
Check out some of my other blogs in the 'Something about' series.
Please follow and like us: