Something about Lindy Lou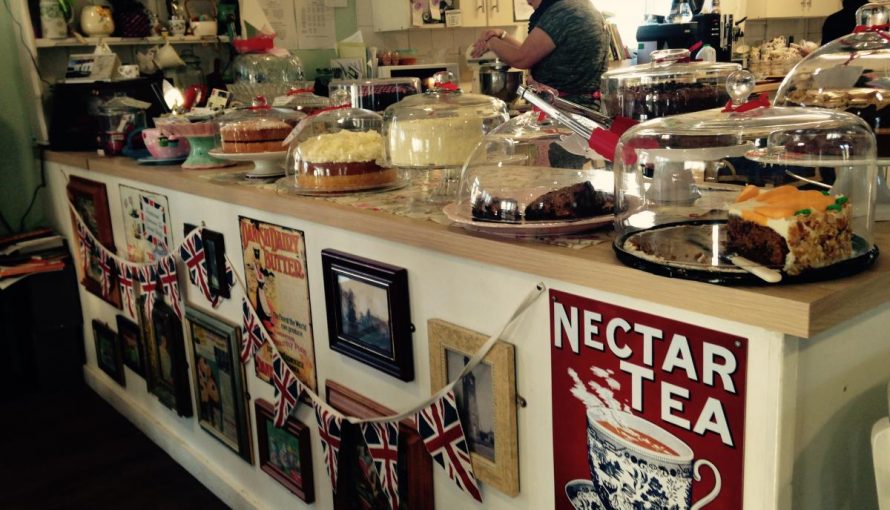 As many of my friends know – I love cafes, you will often find me supping tea in some of Chislehurst's cafes and tea shops or trying somewhere new further afield.
Today was no exception, a good friend had enthused about a relatively new tea room in Crayford. Yes Crayford, over the A20 and beyond yet, believe it or not, less than 30 minutes from Chislehurst!
My reason to visit was two fold – firstly to enjoy tea and cake (I know, needs must) and secondly to meet owner of Vintage Lindy Lou's, Linda. I find women like Linda an inspiration to talk to and so writing this article provided me with an opportunity to tell you about someone worth celebrating!
Using google maps I found my way to Vintage Lindy Lou's, set in the centre of a small garden area called Waterside in Crayford. Once a pop in parlour, this tea room was transformed and open for business in September 2014.
The building is quite plain from the outside but once inside you can see Linda's passion for vintage china, memories, conversation and a place to feel welcome.
In just a few years Linda admitted she has not advertised, though has a facebook page with over 2,000 follows. 'Is that good?' well yes I said. Posting photos of new cakes, Linda can be sure to see an increase of visitors the following day to sample the new cakes.
You can buy tea, cake, afternoon tea, toasted sandwiches and more. The atmosphere is calm, pleasant and with great music from bygone days.
The tea room is so popular you often have to book a table, with this in mind Linda and her team try to keep two 'sharing tables' for anyone popping by without a reservation.
Although limited space for buggies, children are really welcome. One little girl requested her party tea at the shop and customers range from 2 – 103 years old. I do think a big attraction for children are the mini tea pot sets. Such a treat.
There are two sofa areas with homemade crochet blankets and even old newspapers from 1938 – 42 that have been donated for you to browse. In fact, Linda admits to having modelled the interior on her own home.
Unlike many cafes, these is no Wifi. This was a clear decision so that guests can come, enjoy the food and conversation.
There are even memory books. Customers donate their old photos or wedding pictures of grandparents so you can take a look back in time. The regulars seem to want to be part of Linda's vision. Like the plaque in the lady's cloak room 'Memories live longer than dreams'.
There is a dedicated team who work there, all contribute to the ideas and Linda clearly loves her team and celebrates each of their qualities. They say culture begins at the top, in a short space of time Linda has successfully passed on her vision and passion to a small hard working team.
Lindy Lou's – what a great name – I am told her dad gave Linda this nickname, which I love.
I do hope this business continues to be a success. Linda is an example of someone who made a decision to follow her dream and has worked tirelessly, with the support of her family, to create a thriving business.
At a loose end? why not take a short drive to Vintage Lindy Lou's tea room, you won't be disappointed.
If you want to venture a little closer to home, why not have tea at the Bulls Head, Annabel's II or Wrattens. We also have some other lovely café's such as Costa, Walnuts and Cote.
Clare Herriot
Check out some of my other blogs in the 'Something about' series.
Please follow and like us: